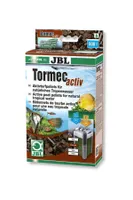 Product Details
Size: 1L
Reduces carbonate hardness and pH value, prevents growth of algae, adds natural humic substances: active peat pellets for the use in aquarium filters
Use: wet 24 hours before use, decant carbon into net bag, embed into the filter
Two peat components with different humic substance content: fast initial effect, well dosed long-term effect. Prevents algae growth: very light amber water colouring
Ideal keeping and breeding conditions for fish from blackwater habitats
Contents: 1 pack active peat pellets. Incl. net bag and clip – diameter per pellet approx. 16 mm, length 15-25 mm.
Clean and healthy water
Plant and food remains and metabolic substances lead to a deterioration of the quality of the water in the aquarium. Good water quality is necessary for healthy fish and plants. This can be achieved with various filters and filter materials. The filters suck in the aquarium water and remove the pollution and waste materials with the filter material from the water.
Preventing algae
JBL Tormec reduces the carbonate hardness and the pH value thanks to its high content of humic substances. Due to its slightly inherent colour it filters certain parts of the light spectrum like in natural tropical waters. This has an algae preventing effect.
JBL Tormec activ
Delivery
Delivery takes 3 to 7 working days. Delivery fees will be shown upon checkout.
From Same Merchant