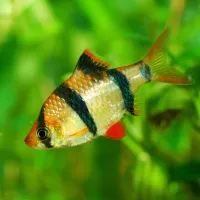 Product Details



Temperament
Semi Aggressive

Water Conditions
Size M
7cm - 10 cm
Vibrant and Striking Colors: The Tiger Barb is renowned for its eye-catching appearance. Its body features a vibrant orange coloration with distinct vertical black stripes, resembling a tiger's pattern. The contrasting colors make it a captivating addition to any freshwater aquarium.

Active and Lively Nature: Tiger Barbs are known for their energetic behavior, constantly darting around the tank. They exhibit playful social interactions within their school, bringing a lively and dynamic element to the aquarium.
Tiger Barb x 5pcs
Delivery
Delivery takes 3 to 7 working days. Delivery fees will be shown upon checkout.
From Same Merchant