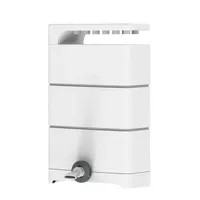 Product Details
Pump compartment is fully sealed with black silicon for water proofing and vibration dampening
Rubber studs/feet are long lasting and help dampen vibrations and noise
Suction pads on back and side for securing against the aquarium glass. Prevents terrapins from wedging themselves and getting stuck.
Rain shower bar spreads aquarium water evenly throughout the filter media
2 Filter Chambers for the XN-600 holds a large amount of filter media
Multi Directional Nozzle allows for adjustments allowing the best flow rate throughout the tank
Flow rate adjustment dial for adjusting towards a stronger flow, or slower flow.
Pump sucks water and debris up from the bottom. Allowing it to operate in very low water systems and keep the tank bottom clean.
***The Xn600 low level filter requires at least 2cm of water to start, the water inlet is located at the bottom of the tank.
Specifications,
Model : XN600
Filter Chambers : 2 Chambers
Power (w) : 10
Max Lift Height (m) : 0.6
Max Flow Rate (L/Hr) : 800
Dimensions (mm) : 130 x 85 x 200
Cable length : 1.5m
SUNSUN XN-600 Low Level Filter
Delivery
Delivery takes 3 to 7 working days. Delivery fees will be shown upon checkout.
From Same Merchant