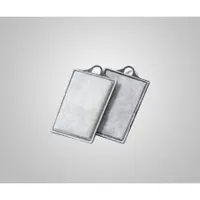 Product Details
360-1
Disposable Filter Cartridge
1.
Additional with high quality active carbon, capable of getting rid of impurities, decoloring and deodorizing in fish tanks.
2.
Easy to install.
3.
Made In Taiwan.
SHIRUBA Cartridge Replacment PF360 (2pcs/box)
Delivery
Delivery takes 3 to 7 working days. Delivery fees will be shown upon checkout.
From Same Merchant