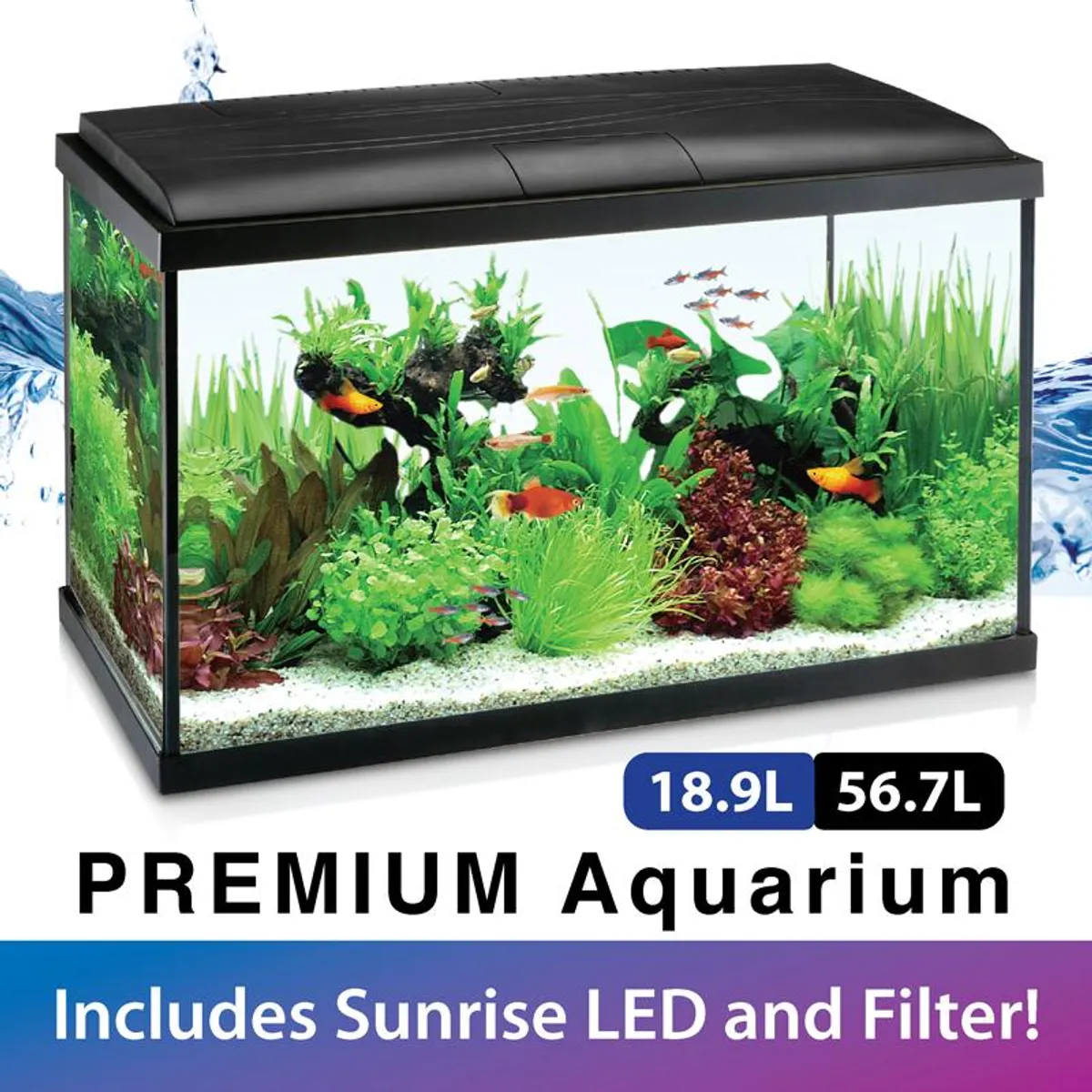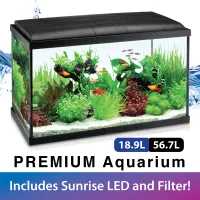 Product Details


Dimensions in cms
41 * 21 * 25
COMPLETE WITH FILTER AND LED LIGHT.
The RIPPLES PREMIUM AQUARIUM is a beautiful and sleek aquarium ideal for all homes and offices. The long slim tank design allows your fishes to swim comfortably from one end to another, and at the same time doesn't take up a lot of table space. RIPPLES PREMIUM AQUARIUM also comes complete with an energy saving Sunrise LED Light as well as a efficient corner filter that helps to maintain clean water conditions.

Available in 18.9L and 56.7L. Suitable for freshwater fishes and shrimps.

Note: Images are for illustration purposes only. Gravel, ornaments, decorations and fishes not included.

Features
Long slim tank design and dimensions allow fishes to swim comfortably.
Easy-to-hide corner filter, powerful and space-saving!
Energy saving LED Lighting with 'Sunrise Lighting-up Technology'.
Removable cover for easy maintenance.
Quick and easy to set up.
Low energy consumption.
Sunrise Lighting-up Technology
Lights up LED from weak light when it is started and increases the brightness gradually. The LED reaches its peak brightness within 30 seconds. This technology provides more natural and comfortable illumination to fish and relieves fish from stress caused by sudden lighting-up of the lights.

Specifications
Ripples RP60 (41cm)
Dimension (LxWxH) : 41.2 x 20.8 x 25.4cm
Volume : 18.9L
Lighting Type : White Energy Saving LED
Filter Type : 400L/H Corner Filter 4W

Ripples RP100 (59cm)
Dimension (LxWxH) : 59.1 x 30.7 x 37.8cm
Volume : 56.7L
Lighting Type : White Energy Saving LED 2.9W
Filter Type : 400L/H Corner Filter 4W

Easy to Maintain:
Corner Filter which is included helps to maintain clean and clear water.
Carry out only 20% water change weekly or when necessary!
Wash the filter wool in Top Filter every 2 weeks or when necessary to ensure proper flow rate in filter compartment using old aquarium water.
Remember to use Anti-Chlorine Medication if you are using tap-water.
[Resun] 18.9L/56.7L Ripples Premium Aquarium Glass Fish Tank (with Filter and LED Lights)
Delivery
Delivery takes 3 to 7 working days. Delivery fees will be shown upon checkout.
From Same Merchant