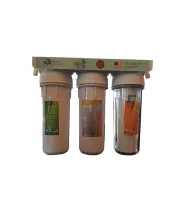 Product Details
The water filter system comes with activated carbon filter that removes organic chemicals, sludge, contaminants up to 5 microns and odour.
Virtually no maintenance required except for changing cartridges when due for replacement.
The water filter system reliably produces clean water consistently. This is critical for aquarium applications where aquatic live stocks are sensitive to water chemistry.
Specifications
Can be wall-mounted or free-standing
What's Included
5 Micron sediment
Carbon Block
DI Resin
Tap adapter
TDS Pen
Hose
Wrench
3-STAGE DI DEIONIZER WATER FILTRATION SYSTEM
Delivery
Delivery takes 3 to 7 working days. Delivery fees will be shown upon checkout.
From Same Merchant