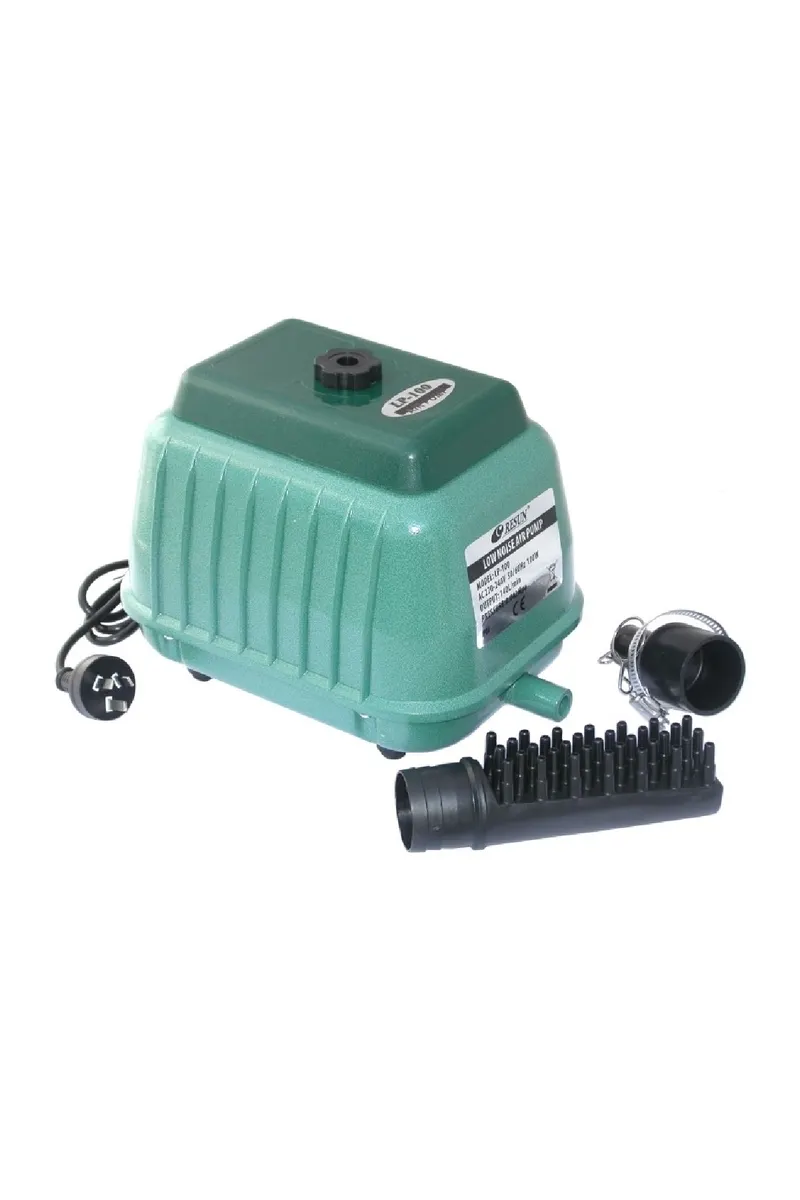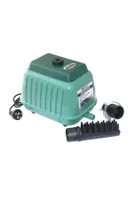 Product Details
The Resun Air Pump LP100 delivers with low noise a maximum high volume air output of 8400L/hr (140 litres per minute), which is suitable for larger aerobic biocycle sewage systems & fish and koi ponds. It must be housed to be protected from dust ingestion. Dust will prematurely wear the rubber valves & diaphragms.
Installation hints:

Do not install any brand of air pump of this size in the lounge room unless you like a continuous low noise hum whilst watching TV. Place the pump in a non-habitable room, or outside, and then plumb air line tubing to the tank diffusers.
To increase the life of the rubber diaphragms, the unit must have back pressure. See details below.
Also used for: Air lift water pumping & aeration, Waste water treatment aeration, biocycle, envirocycle & ecocycle deep water septic tank aeration, Natural swimming pond aeration, Aquaculture pond aeration, Commercial and industrial water aeration, Bubble baths
FEATURES
Electromagmetic linear diaphragm technology
Low noise. Decibel levels measured in a quiet room using

A-frequency weighting

with medium back pressure loading on the pump:
44dB(A)+/- at 3m from air pump, 55dB(A)+/- at 500mm from air pump. A quite room ambient noise level is 30dB(A)+/-
Cast aluminium body
Voltage/Wattage: 240V / 100W
Automatic thermal cut-out overload protection
Cable length: 1.5m
Max pressure: 0.042 mPa / 0.42 bar / 420 mbar / 6.1 psi
Max air output: 8400L/hr (140 Litres/minute)
Air pump outlet diameter: 20mm
Must be set-up above the water level
Important: Rated IPX4 (meaning – Should be placed in a low dust environment but will tolerate rain and light sprinkling)
Maximum water depth for placed airstones or air diffuser: 4.0m

Supplied with a plastic 33 outlet x 46mm barbed manifold to suit 4mm – 8mm silicon air line

Air Pump dimensions: 270mm(L)x200mm(W)x230mm(H)

Weight: Air Pump, 6.6kg. Cartoned pump: 7.31kg
PLEASE NOTE:
To avoid premature or unexpected failure of the rubber diaphragms and valves:
As preventive maintenance, the industry standard would require that all linear electromagnetic air pumps running 24/7 should be dismantled, air jet cleaned & have the diaphragms & valves replaced every 18 months or 12,000 hours
The pump must only be used in a dust free environment.
The pump must only be run with a back pressure load. Do not use for long periods with unrestricted air flow. This will stretch the diaphragms to cause premature tearing or distortion. Back pressure is created by having the air diffusers or air stones deep in the water or if not possible, a flow control tap fitted into the air line.
Resun LP-100
Delivery
Delivery takes 3 to 7 working days. Delivery fees will be shown upon checkout.
From Same Merchant