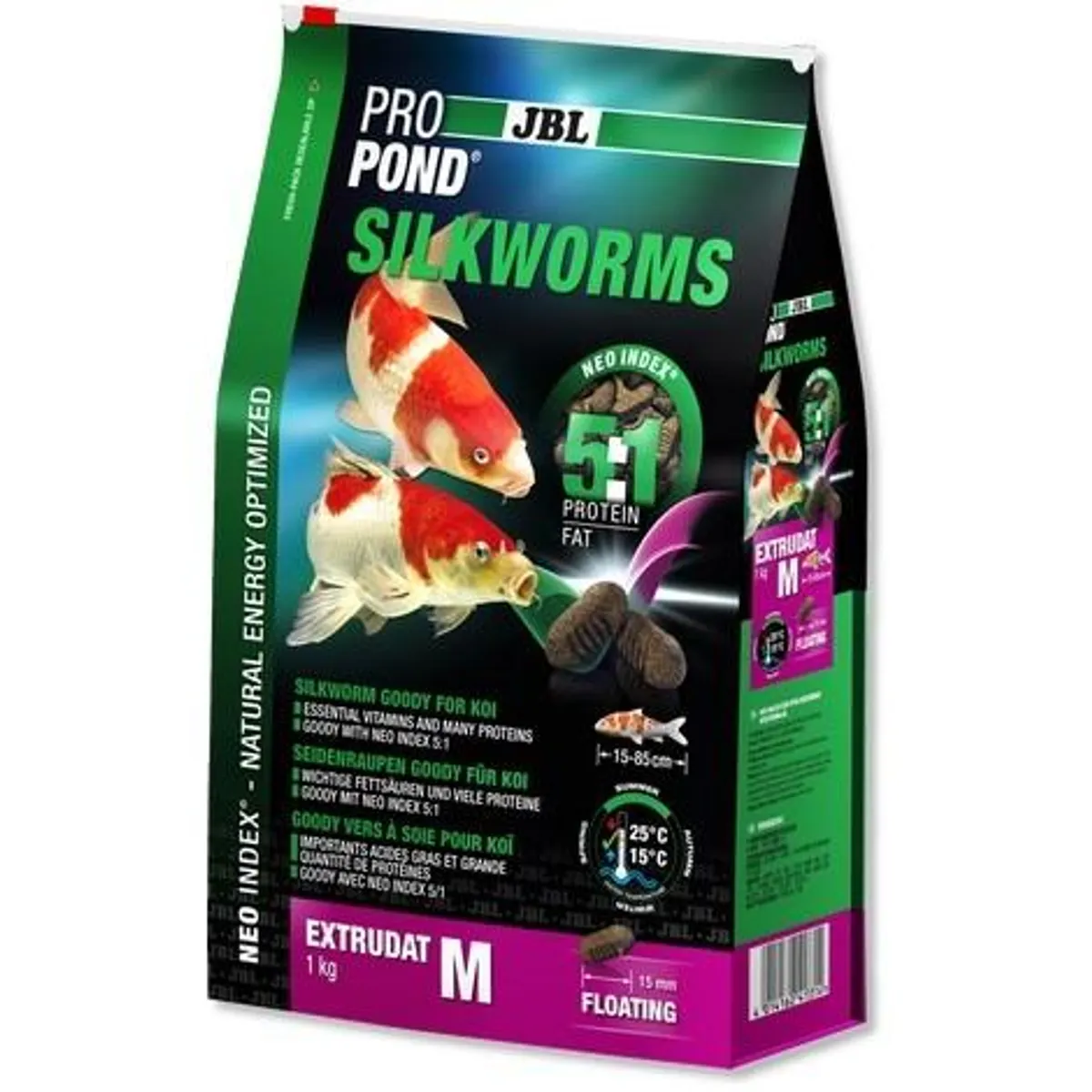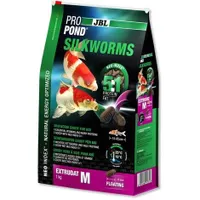 Product Details
Silkworm extrudate with the right protein/fat ratio 5:1 in accordance with the NEO index which takes temperature, function, animal size and age into account.
Silkworm with added salmon, gammarus, spirulina and seaweed for a wholesome diet (

at 15-25 °C water temperature

).
Food size M (15 mm) for fish from 15-85 cm.
Floating food in silkworm shape and ideal composition with 44 % protein, 9 % fat, 2 % crude fibre and 10 % crude ash.
Contains: shrimp extrudate in resealable bag (air, water and lightproof) for the preservation of quality.
PRODUCT INFORMATION
NEO intex literally means: natural, energy-optimised nutrition.
Behind this lies the ratio of proteins to fats in the food.
Looking at the season alone, the fish would only need half as much protein in winter (2:1) as in summer (4:1).
But because not only the season (meaning the water temperature), but also the size and age of the fish, and food function (e.g. growth food = ProPond Growt) play determining roles, the der NEO index has been developed to deal with all these factors in one.
ANALYTICAL COMPONENTS

Crude protein (44.0%)
Crude fat (9.0%)
Crude fibre (2.0%)
Crude ash (10.0%)
FAQ
How long does the food keep after opening?
> Please ensure you buy a packaging size suitable for your aquarium/terrarium/pond so that the quantity contained is used up within 4 months. Compare it with a tin of biscuits lying around for several months. When properly stored they are not necessarily soggy, but they are not quite as tasty as when the packet was opened. Therefore it is not advisable to use the food after this time.


The repeated opening and closing of the packaging brings the food into contact with bacteria and humidity over a longer storage period. Thus the quality of the premium food reduces continuously and this influences the vitamin content and the freshness of the food. For the benefit of your animals you always should feed them fresh food.
JBL ProPond Silkworms M 0.34kg
Delivery
Delivery takes 3 to 7 working days. Delivery fees will be shown upon checkout.
From Same Merchant