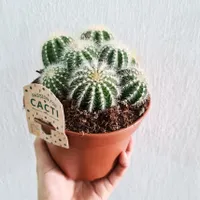 Product Details
Whether it is fengshui or to ward off evil, these beauties will definitely add some spice in your life! Just be careful not to grab them with your bare hands!
Plant will be randomly chose unless specify
Maintenance: Avoid direct sun for too long (max 2hrs). Keep soil fairly dry
Size: 15 to 20 cm
Cactus Mix
Delivery
Delivery takes 3 to 7 working days. Delivery fees will be shown upon checkout.
From Same Merchant