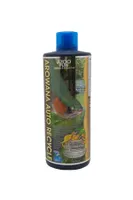 Product Details
AZOO PLUS Arowana Auto Recycle
Formulated for highly polluted aquariums
Instantly decomposes organic compounds
Breaks down fish excrement and any uneaten food
AZOO PLUS Arowana Auto Recycle is specially formulated for the water treatment of highly polluted aquariums of Arowana and Ancient fish. This product includes a variety of chemical free aerobic and anaerobic bacteria collected from nature. Due to the outstanding decomposition capability of pollutants in aquariums, Arowana Auto Recycle provides the fish with a high efficiency bio filtration mechanism. It instantly decomposes organic compounds, ammonia, nitrite, nitrate, hydrogen sulfide, and other harmful substances. This product also breaks down fish excrement and any uneaten food, blocking the source of pollutants in an aquarium.
Arowana Auto Recycle quickly becomes the dominant species of bacteria to effectively inhibit pathogen growth. Its features are to build up a healthy, long-term bio system for stable water conditions, lowers the stress of Arowana and Ancient fish, and increases the dissolved oxygen level. This product has an efficient decomposition mechanism in the filtration system to completely clean filter pollutants, clears cloudy water, removes bad odors, and maintains the best filtration performance.
Main Components: Bacillus sp., Lactobacillus sp., Aspergillus sp., Alcaligenes sp., and Rhodopseudomonas sp.
Directions:
Shake well before use.
Pour near the outlet of the filter.
New aquarium: add 20ml per 100L of water. In the first week, add an additional 10ml per 100L once each day for 3 days.
Water change and routine maintenance: add 10 ml per 100L of water once per week.
Close the bottle cap tightly after use. Store in a cool place and avoid direct sunlight.
One full cap is equal to 20ml. Inner cap is equal to 5ml.
Bottle treats 5,000L or 1,316 gal.
AZOO PLUS Arowana Auto Recycle
Delivery
Delivery takes 3 to 7 working days. Delivery fees will be shown upon checkout.
From Same Merchant